Boost customer satisfaction while solving your workforce challenges with ESC Partners CUSTOMER CARE 360 (CC360)
Every modern city and utility attempts to balance end-user, customer, and citizen needs against an ever-changing support system of employee retention and growth issues. The bottom line is: As customers become more demanding in requirements, data requests, and digital expectations, your team is dwindling because of retirements and experience lags—leaving support gaps you simply cannot fill.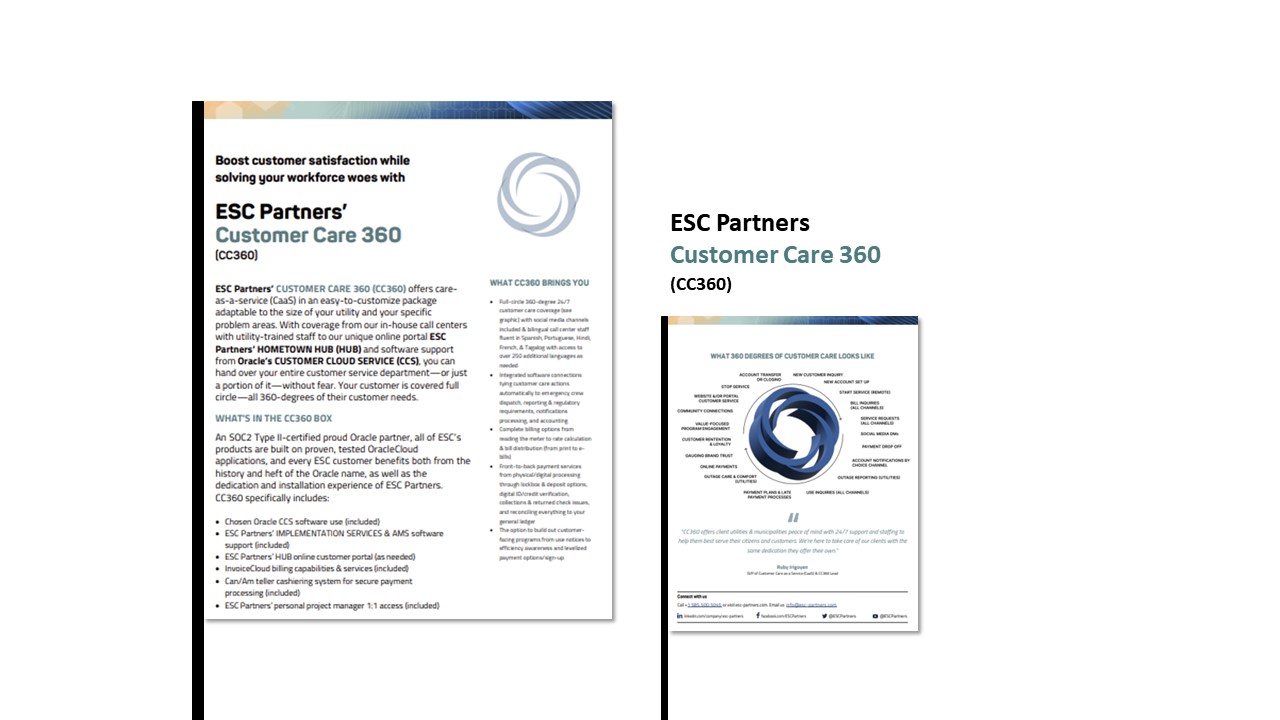 ESC Partners' CUSTOMER CARE 360 (CC360) offers that balance in an easy-to-customize package adaptable to the size of your utility and your specific problem areas. With coverage from our in-house call centers with utility-trained staff to our unique online portal ESC Partners' HOMETOWN HUB (HUB) and software support fromOracle's CUSTOMER CLOUD SERVICE (CCS), you can hand over your entire customer service department—or just a portion of it—without fear. Your customer is covered full circle—all 360-degrees of their customer needs.
WHAT'S IN THE CC360 BOX
An SOC2 Type II-certified proud Oracle partner, all of ESC's products are built on proven, tested Oracle Cloud applications, and every ESC customer benefits both from the history and heft of the Oracle name, as well as the dedication and installation experience of ESC Partners. CC360 specifically includes:
Chosen Oracle CCS software use (included)
ESC Partners' IMPLEMENTATION SERVICES & AMS software support (included)
ESC Partners' HUB online customer portal (as needed)
ESC Partners' and/or ENCO Utility Services call center/support staffing (as needed)
InvoiceCloud billing capabilities & services (included)
Can/Am teller cashiering system for secure payment processing (included)
ESC Partners' personal project manager for 1:1 access (included)
WHAT 360 DEGREES OF CUSTOMER CARE LOOKS LIKE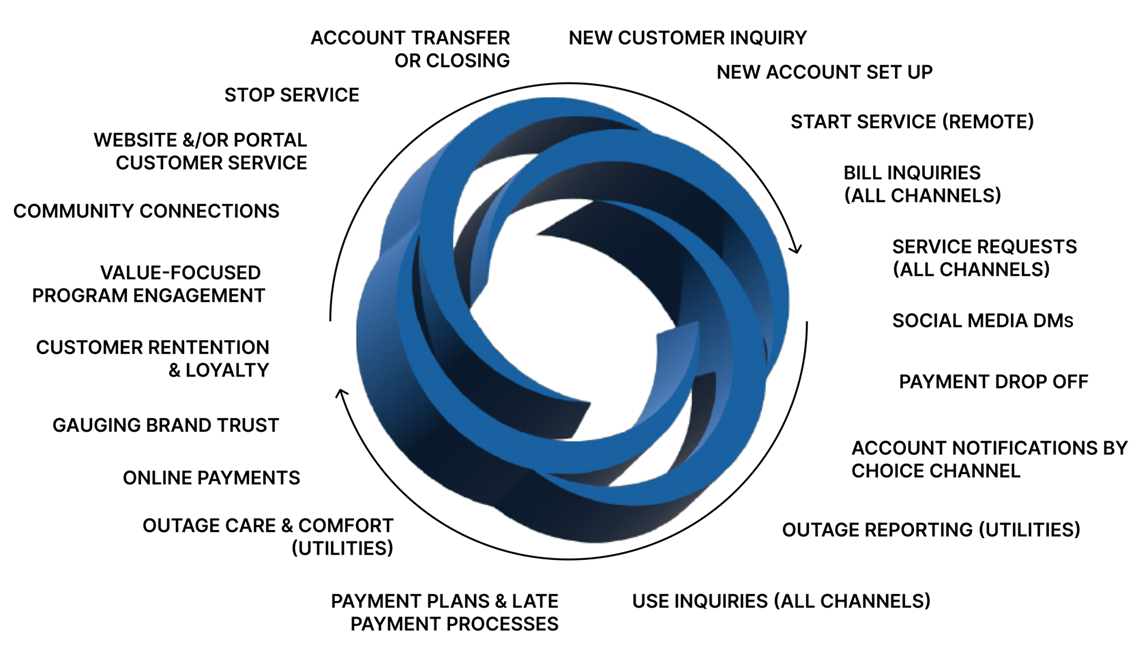 WHAT CC360 BRINGS YOU
Full-circle 360-degree 24/7 customer care coverage (see graphic) with social media channels included & bilingual call center staff fluent in Spanish, Portuguese, Hindi, French, & Tagalog with access to over 250 additional languages as needed
Integrated software connections tying customer care actions automatically to emergency crew dispatch, reporting & regulatory requirements, notifications processing, and accounting
Complete billing options from reading the meter to rate calculation & bill distribution (from print to e-bills)
Front-to-back payment services from physical/digital processing through lockbox & deposit options, digital ID/credit verification, collections & returned check issues, and reconciling everything to your general ledger
The option to build out customer-facing programs from use notices to efficiency awareness and levelized payment options/sign-up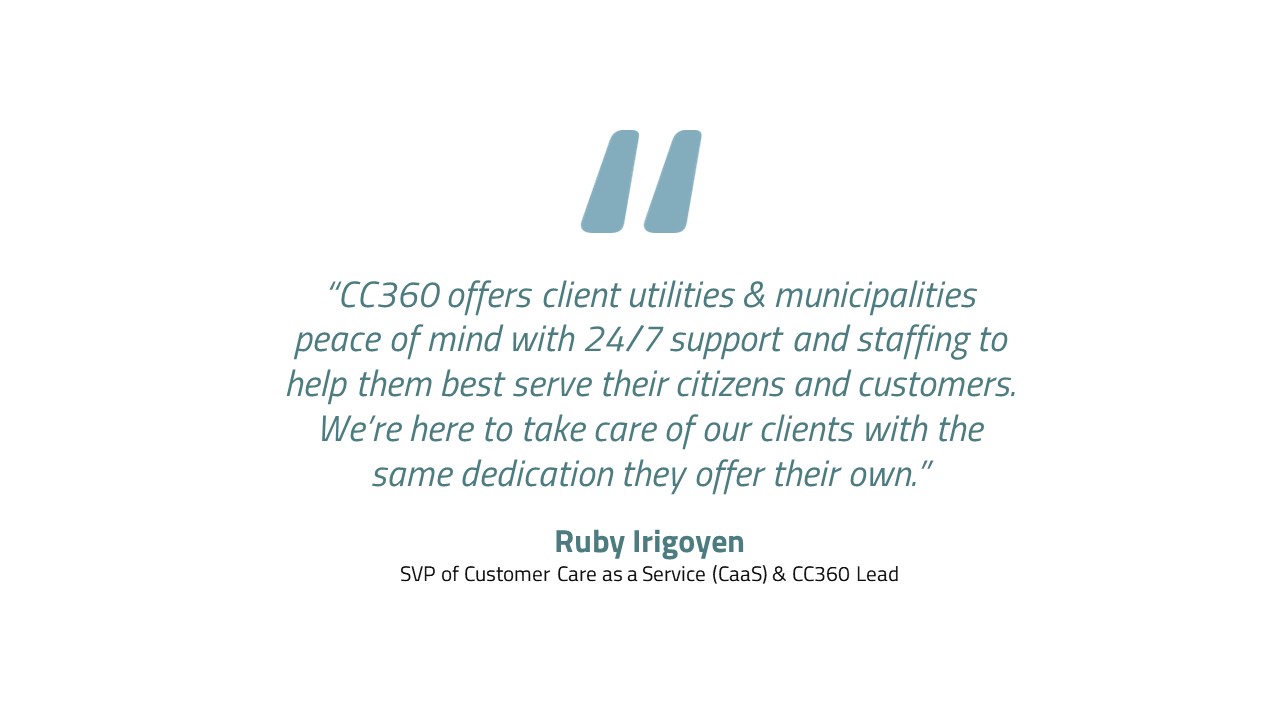 ESC Partners is building #smartcities from #utilities work to #publicworks with solutions in the #Oracle Cloud. Let us show you how your city can be #hometownSMART today. Just send us a note via the contact form, and we'll circle back within 48 hours. Or contact us anytime on FB, x/Twitter, or LI. You can click through directly from the icons on the footer of this page.
---
Related Content
ESC Partners customer City of Carmel wins big at Oracle's Edge conference.

Our SME gives you seven steps to smooth the way.

Two-fold results: better customer service and smart city groundwork for growth.